"Maskons" (readymade)
Stanisław Lem in his book "Futurological Congress" shows a world on the brink of extinction, where reality is created in people's minds with the help of special hallucinogenic tablets and preparations so that the world seems better, cars are more beautiful (today electrics), food more tasty (today we would greener said) more beautiful people (today insta filters) and thus everyone happier.
Technique: Colorless vegan capsules, excerpts from Stanisław Lem's book "Futurological Congress".
Year: 2021
"Maskony" (readymade)
Stanisław Lem w swojej książce "Kongres futurologiczny" pokazuje świat na krawędzi zagłady, w którym rzeczywistość, jest kreowana w umysłach ludzi, za pomocą specjalnych halucynogennych tabletek i preparatów po to by świat wydawał się lepszy, samochody piękniejsze (dziś elektryki) jedzenie bardziej smaczne (dziś byśmy powiedzieli bardziej ekologiczne) ludzie piękniejsi (dziś filtry na insta) co za tym idzie szczęśliwsi.

Technika: Bezbarwne kapsułki vegańskie, fragmenty książki Stanisława Lema "Kongres futurologiczny".
Rok: 2021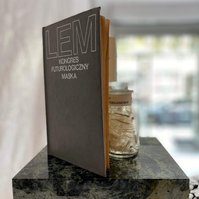 "Maskons" (readymade)
Technique: Colorless vegan capsules, excerpts from Stanisław Lem's book "Futurological Congress".
Year: 2021